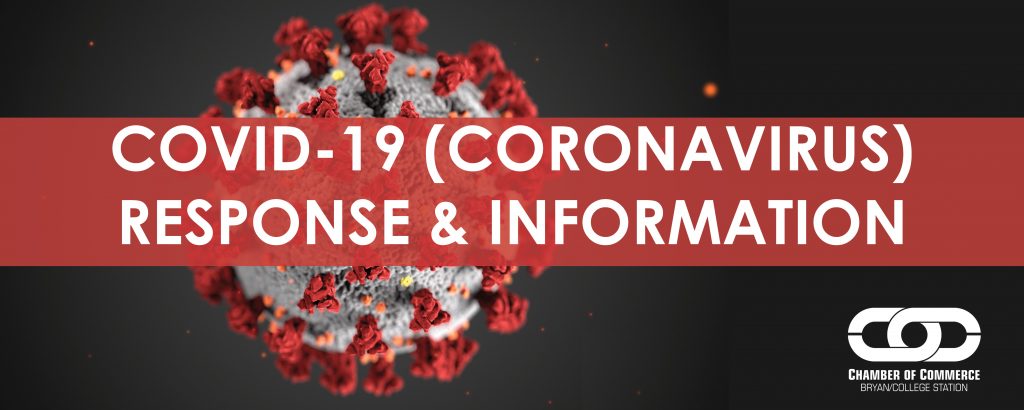 The Bryan/College Station Chamber of Commerce and our Board of Directors take the health and safety of our community very seriously. We are actively monitoring the situation regarding COVID-19 and are in communication with local authorities and our local media.
Maintaining the health of our economy is also crucial during this time. Please continue to shop local when you can and enjoy our restaurants and retailers.
The Chamber continues to act as a hub of resources and information for businesses and community members. If you need business assistance or are seeking additional resources, please contact the Chamber at (979) 260-5200. Please follow here or on social media, @bcschamber, to stay up-to-date on all Chamber programs and events. 
CARES Act Information & Resources
Resources from your Congressman
U.S. Representative Bill Flores 
City/County Resource Links 
Tuesday, March 31, Texas residents will be under a shelter-in-place order until April 30th to help stop the spread of COVID-19. Read the full order here.
Resources for Small Businesses
Local Business Information during Covid-19. 
Brazos Valley Council of Governments
Brazos Valley Small Business Development Center
If the employer has no choice but to permanently or temporarily lay off employees, we want to make it as simple as possible the Mass Claim program streamlines the unemployment benefits claims process for employers faced with layoffs (permanent or temporary) of 10 or more employees at one time and takes some of the burden off the employees filing.
The Mass Claims program is now part of The Texas Workforce Commission Employer Benefits Services. To submit a new Mass Claims request, log on to Employer Benefits Services (EBS) 5 days before the scheduled layoff. During the COVID-19 pandemic, TWC has waived the requirement that you must submit your Mass Claims Request at least five days prior to the planned layoff.
American Chamber of Commerce Executives
Occupational Health & Safety Administration
U.S. Chamber of Commerce Foundation
U.S. Small Business Administration
Texas Business Association - Business Resource Tool Kit 
SBA Coronavirus Pandemic Disaster Loans Comparison
Building Trust in Trying Times - Tips for Business Owners during Coronavirus Pandemic.
BBB - Coronavirus Resources for Businesses by Location
Health/Hospital Resources
Centers for Disease Control & Prevention
Texas Department of State Health Services
The Physicians Centre Hospital
With the recently released CMS waiver, we are able to turn all of our PACU bays, pre-op rooms, endo suite, etc to beds so are now able to take up to 48 patients if needed. We are looking into equipment and staffing needs as well with the additional volume. We are hoping to get some nurses from unaffected areas within Surgery Partners.
School Resource Links 
Texas A&M online classes will continue March 23 - April 28. Campus meetings and events will also be limited to 50 participants or less. Housing and dining will remain open to support students. Read the full update: tx.ag/COVID19
Brazos Valley Schools Credit Union
Utility Resource Links 
"As part of our commitment to serving and working with our customers throughout this difficult time, we have temporarily suspended natural gas disconnections"
For more information, click here.
"Altice USA is committed to helping schools and students stay connected during this
unprecedented time. For households with K-12 and/or college students who may be displaced
due to school closures and who do not currently have home internet access, we are offering our
Altice Advantage 30 Mbps broadband solution for free for 60 days to any new customer household within our footprint."
Helpful Information
Taxpayers will get a three-month reprieve to file their 2019 income tax returns
Only 1 Rentals - (936) 825-2444
Only 1 Rentals has a full line of equipment ranging from temporary lighting with self contained light tower units to allow for remote work stations whether it be testing sites, or keeping your business running outside due to the recent social distancing orders not allowing us to conduct normal business within our stores. We have temporary fencing, and material handling equipment such as vertical mast forklifts and all-terrain telescopic forklifts, as well as, 20' and 40' storage containers to allow for temporary and additional storage of additional products; whether it be goods for sale, or medical equipment at the hospital. We also have portable restrooms and open top roll off dumpsters to allow for additional disposal of waste to keep your locations as sanitary as possible. All of our assets are ready to be utilized upon request. Click here for the full letter from owner, Dillon Hughes.
If your business/restaurant needs tents to set-up outside for to-go and curbside pick-up orders, please reach out to the following businesses.
Tips for Disinfecting your Home! 
Restaurants
BCS Independent Restaurant Group
Local Businesses
Branding Iron Management is offering a FREE opportunity for branding and/or marketing for members of the B/CS Chamber of Commerce. Click HERE for more information. 
Howdy! In light of the recent outbreak and businesses all around Bryan/College Station being affected in one way or another, the management here at BPL Plasma in Bryan wanted to let you know that we are here for you and your employees! If your business has had to drastically cut hours, close down completely, or even let go of some of your employees, we want to strongly encourage you to let them know that we are still open and fully operational! We are looking for any way we can to help out those suffering around us, and it just so happens that the very nature of our business allows us a means to give the members of your staff a little bit of financial relief in these unsure times. If they are healthy and able, send them our way, our donors make $350-$500 a month, and our hope is to help as many people as possible stay on their feet through what we are all facing during this time. You can rest assured knowing that we also have strict safe-distance policies and actions in place to prevent the spread of illness. We're here to help, and we hope that you can help us spread the word to as many people as you can!
"After reviewing the most recent recommendations and guidelines from the CDC and State of Texas Health Department pertaining to our profession, we have established the following service restriction: All Callaway-Jones funeral, memorial, and celebration services and gatherings will be limited to immediate family, and to extended family by invite only until further notice."
Offering electrostatic disinfectant spraying for all businesses if interested. The sprayer converts the disinfectant molecules to have a positive charge so that when it reaches any negative or neutral surface (which most surfaces are) the disinfectant will attract and cover the whole surface with a fine mist that has a quick dwell time and will not ruin electronics or any surface.
Evolve Impact Group is offering FREE marketing services to small business owners in Bryan/College Station as we all try and navigate this new normal for our community. Our team is ready to help you with ideas as you think through your next steps. Let's work together on a plan to keep your doors open. CLICK HERE for more information!
Offering 15% off all orders up to $1000
FUJIFILM Diosynth Biotechnologies
"FUJIFILM Diosynth Biotechnologies (FDB) is utilizing its network of leading scientists, engineers, and production facilities in both Europe and the USA, including those located in College Station, Texas to manufacture clinical material in short order to support the global efforts to control COVID-19. FDB stands ready to support United States government efforts to respond to the manufacture of a COVID-19 vaccine."
"As H-E-B focuses on serving Texas, shortened hours allow H-E-B Partners to work diligently overnight to fully prepare the store for customers during the day. Today, all H-E-B stores will implement temporary modified hours. Tonight (3/14) all of our stores will close at 8 pm, and starting 3/15 stores will be open from 8am-8pm. Customers will also see reduced services in our delis, bakeries and floral departments as we adapt to better serve you. We will return to our regular hours and full services as soon as we can. #SlowtheSpreadTexas. Customers can find updates on H-E-B operations at www.heb.com/newsroom.
Click here for purchasing limitations
Reece & Jouett Exceptional Dentistry
Offering Port-a-Pottery kits. You pick up the pottery pieces, we provide the supplies. When you're finished painting bring the items back to the studio for glazing and firing. Call the studio and we can take payment over the phone and we'll delivery curbside.
Adjusts store hours to give stores time to restock & clean
HIRING - JOB RESOURCES
CHI St. Joseph Rehab Hospital- Cook